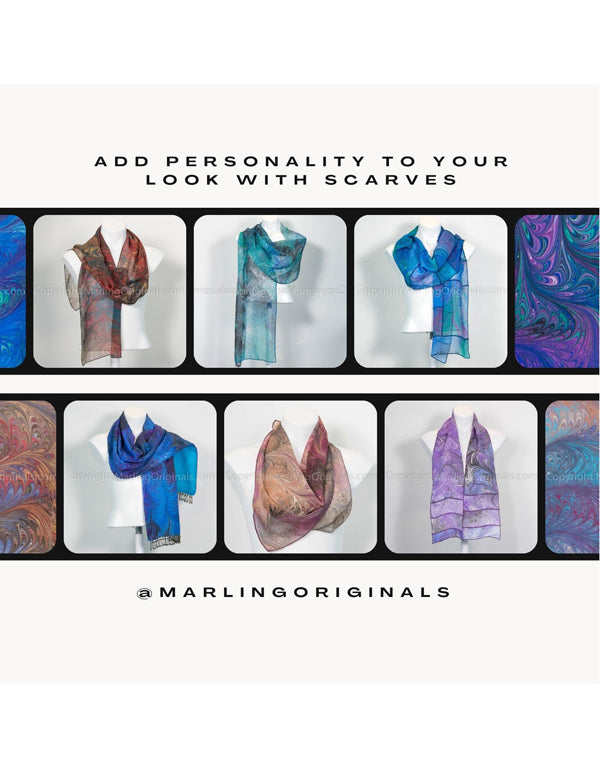 Add Personality to Your Look with Scarves
Scarves are to our wardrobes what icing and decorations are to a birthday cake - they add personality and visual interest. A scarf adds polish to your look - your overall image appears more put together when a scarf accessory is added. A varied scarf collection instantly expands your wardrobe because it gives you the flexibility to change the way your clothes look.
Scarves are an instant statement piece to your core neutrals. A scarf can add a playful, elegant, professional or sophisticated tone to your look - the possibilities are endless! The colors, texture and way you tie your scarves all play a part.
Check out amazing one of a kind scarves from Marling Originals
Scarves give you the ability to be creative and showcase different aspects of your personality. Look at how these scarves pair with basic pieces to change the mood of a neutral grey sweater:
Day in North Georgia

A heavier lined scarf accents the sweater with jeans for an outdoorsy vibe. The weight and texture of the scarf pairs well with this heavier charcoal knit.

Lunch or Shopping Adventure

Casual yet still polished, a small rectangle scarf provides a pop of color around the face to balance the more delicate silver belt.

Smart Look

A sheer chiffon scarf is a great contrast to the leather skirt and boots. Perfect for casual work or evening out. The longer drape of this scarf adds sophistication.
3 Tips to Consider when Building a Scarf Collection:
1. Collect scarves in a variety of colors and personalities.

Each scarf will evoke a "mood" through color and pattern. A bright vivid scarf is a different personality than a muted, pastel scarf. Both might be perfect for a top but they each will send a different message. Having a variety of colors and patterns gives you the greatest flexibility.

2. Collect scarves in a variety of sizes.

A good collection of long neck scarves is great, but also add scarves that are small, rectangular, skinny, square, triangular. There are so many different types of scarves that can add interest - venture out and explore different options. Watch videos on ways to wear these different sizes.

Collect scarves in a variety of textures and weights.

Scarves range from sheer and airy to bulky and heavy - each style has the potential to transform an outfit. A variety of textures and weights gives you so many creative ways to energize your looks.
So now that you have a selection of scarves, make sure that you WEAR them with these handy tips:
Organize your Scarves

The most common reason for not wearing your scarves is that they are "Out of sight, Out of mind". Tucking scarves in a drawer or in a basket is an easy way to forget about them. I like to use a hanging scarf holder that allows me to see my scarves. I have 2 hangers - one for bulkier scarves and another for sheer and medium weight fabrics.

Go "Shopping" in Your Closet

Spend some time putting together polished outfits with your scarves. Put on an outfit and then experiment with how you can use scarves to create different feels and looks. I write these down on an index card so I don't forget which scarves looked best with which outfit - making a special note of how I tied them. This process also helps me make a list of colors/items that I need to look for in scarves.